1. Set up an account as a master
Open a new live account
On your dashboard, click Show all or Details
Click Choose Invest Type, Change invest type
Select Copy master, then Save changes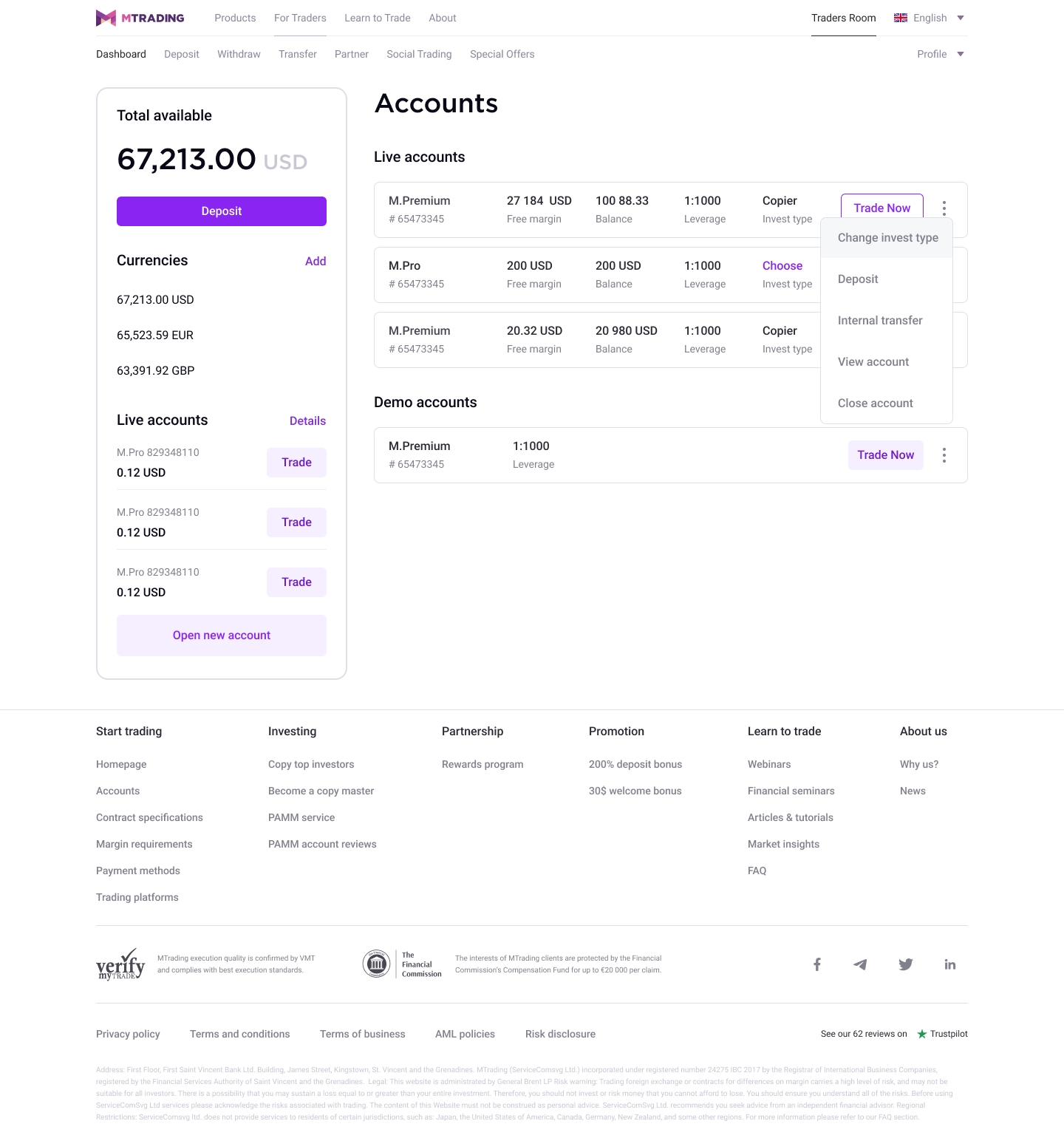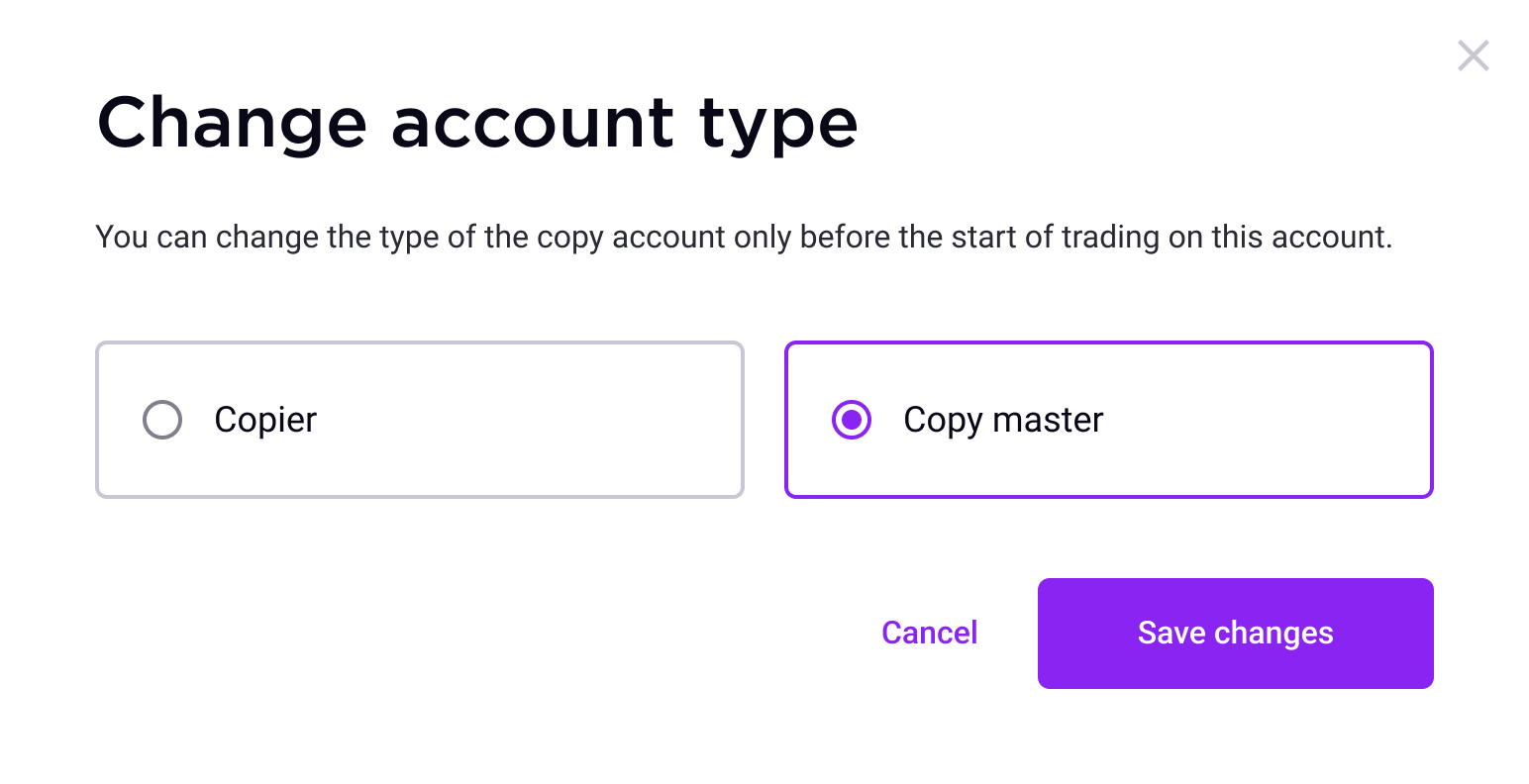 Click on your master account,
Click Publish strategy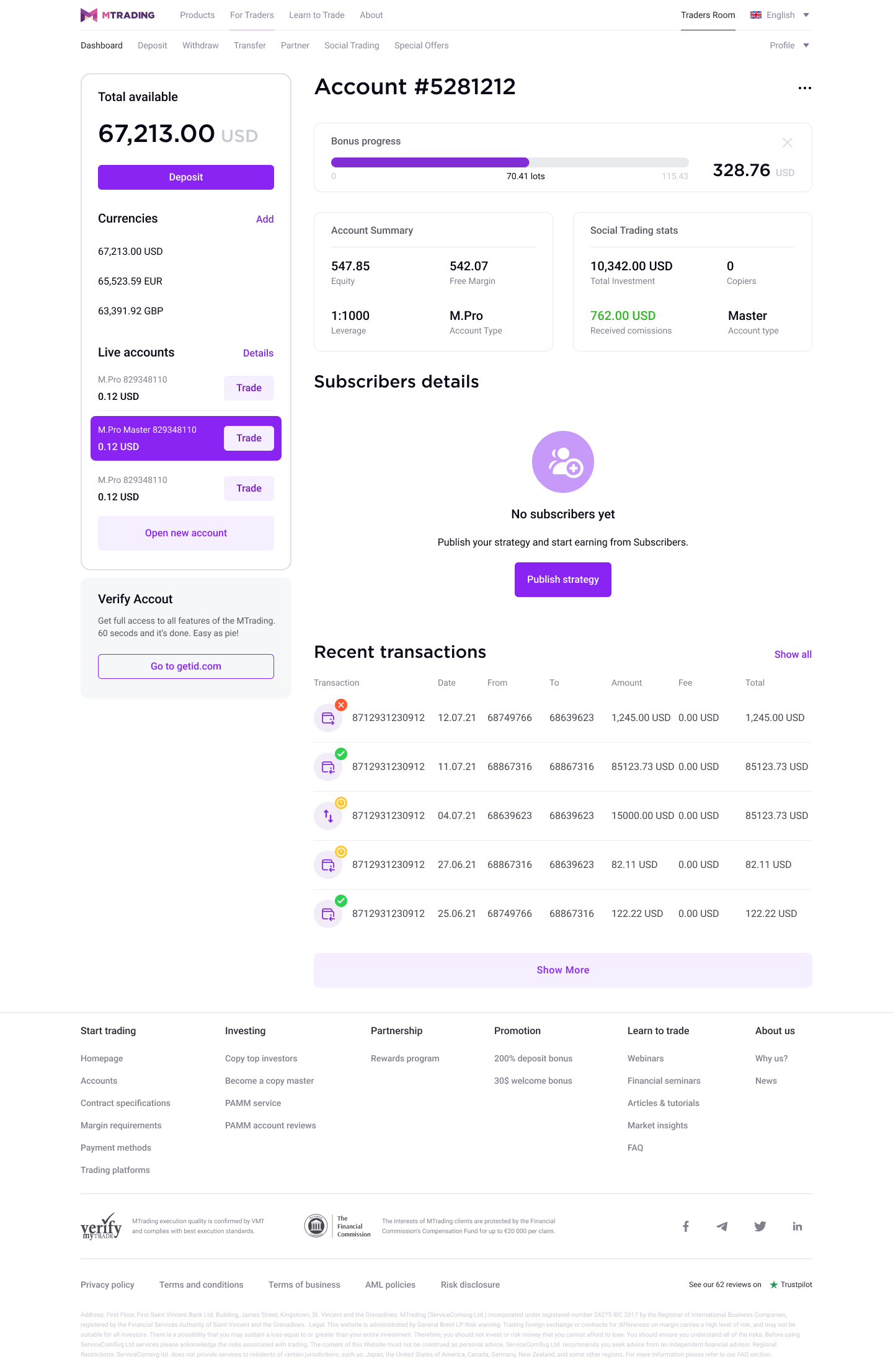 2. Publish your strategy
Commissions
Set the commission that you'd like to charge for copying your trades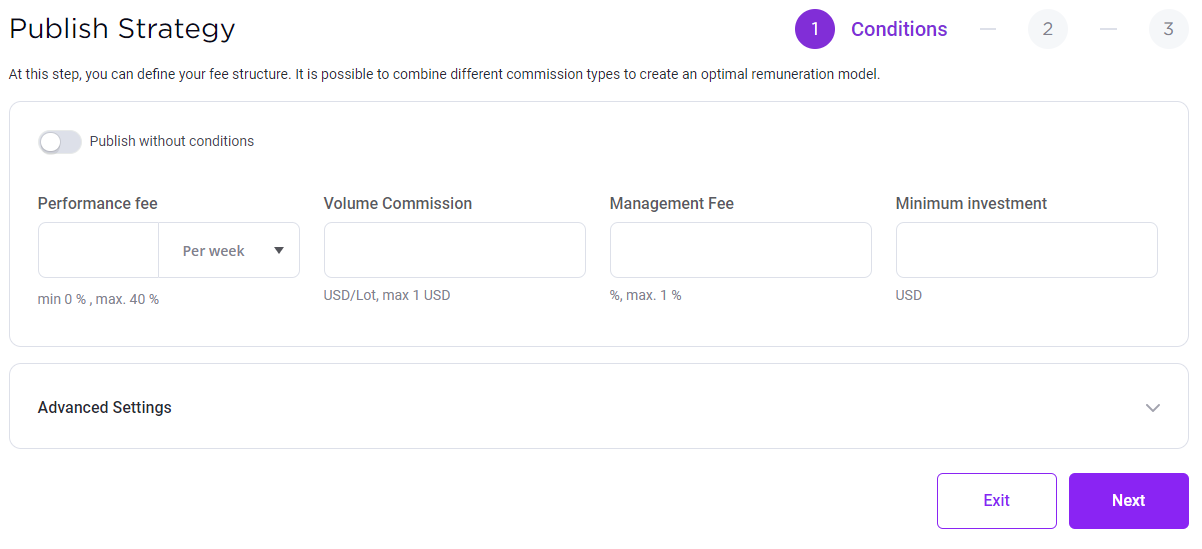 All about commissions please read here
Minimum Investment
Set the minimum sum that a copier will need to use in order to successfully copy your trades.
To complete the setup of your strategy, fill in the account name information and describe your strategy.
Strategy description
This is a very important page to complete. Information you write here will help you to stand out among the others! Write a unique strategy name, and write your strategy description. It should be eye catching! Here you can recommend the allocation type with which is best to copy your strategy.
Allocation types
The allocation type settings that were set by you will NOT be copied to your subscribers. Copiers has to set the allocation type by themselves or copy with the default settings which is by Balance, so they will copy the size of lot proportionally to their balance.
Please note: the subscriber will copy exactly your lot size only if the copier chooses the allocation type: by Ratio, Ratio 1. But for that the copiers (invested balance to the subscription) and your master balance should be the same (or very similar)
All allocation type formulas can be found here
Daily Loss Limit and Profit Limit
Set the Daily Loss Limit in % and Profit Limit in %, up to 100%. The daily limit for profits and losses is a risk management tool for traders. You can set profit and loss limits as a percentage of the account balance at the beginning of the day (00.00 CET). If these are exceeded, the platform automatically closes all open and outstanding positions for the master and all your copiers, and further trading is stopped until the beginning of the next trading day.
Provide a link to your public chats and pages where you can communicate with your copiers and inspire!
Then click Next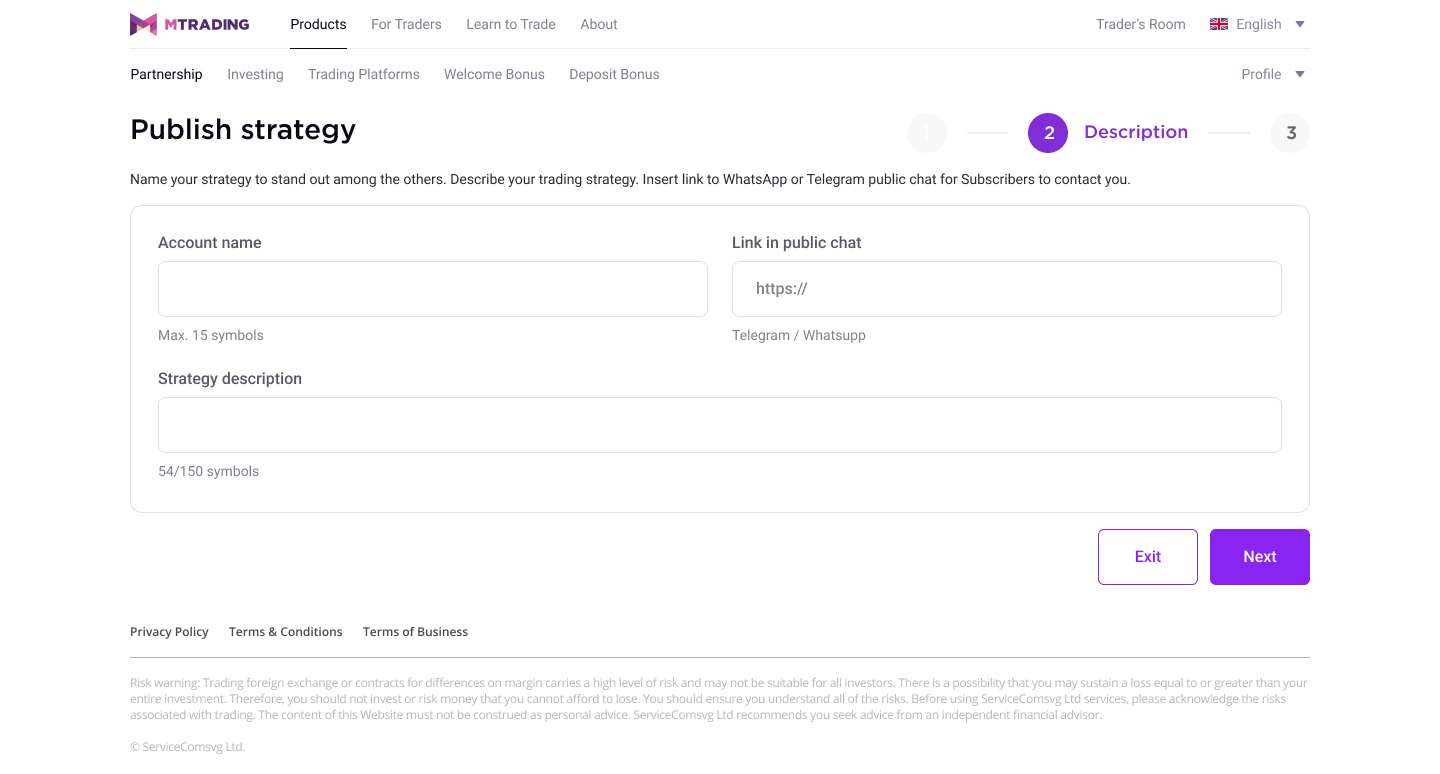 Review your conditions and description, then click Publish
Congratulations, your strategy has been published!
If you want to change it, you can always do it by clicking on the "Edit" button on your profile page. You can also delete your strategy by clicking on "Unpublish" in the strategy edit.
This is how your copiers will see your strategy in the master rating page
3. Create a master password to trade on MT4
The password that was sent to your email - is an investor password, and it's read-only (wouldn't allow you any trading).
To create a new password, click on the master account number, then click 'Change password', thus you will create a master password that you can use to login into your MT4.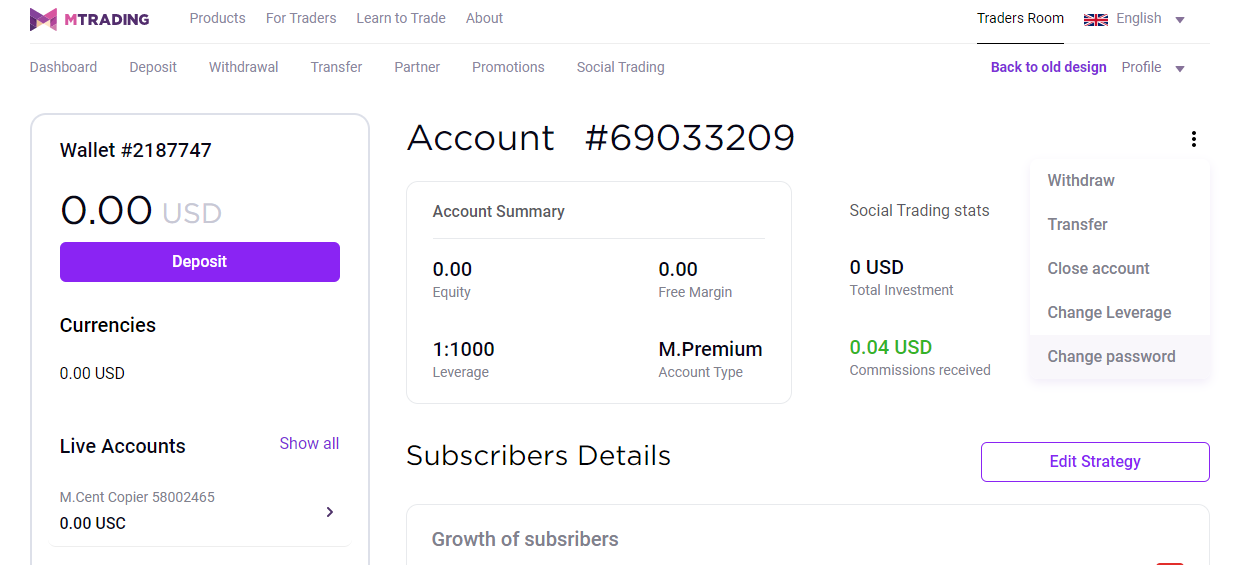 4.
Your dashboard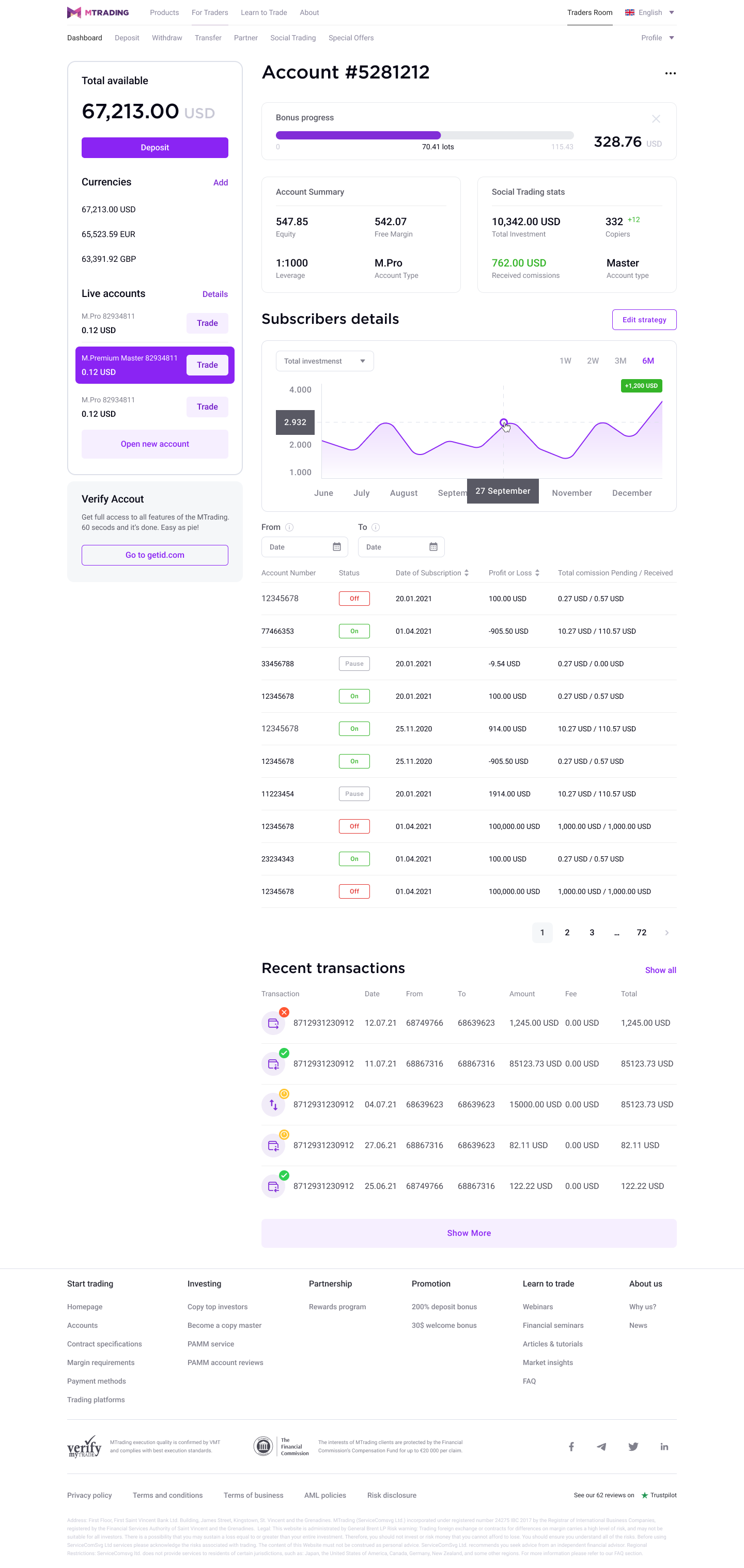 The following actions are available for the master account type:
Equity - shows your current equity
Free Margin - shows your current free margin
Leverage
Enhances buying power by giving strategy providers the ability to trade large volumes with a smaller amount of funds. It is expressed as a ratio of their own funds to borrowed funds, i.e 1:50, 1:100, 1:200 etc. Set by the strategy provider when they create the strategy, and cannot be changed.
Account type
M.Pro, M.Premium, M.Cent
Copy assets
Money invested to copy master's strategy.
Copiers - shows number of copiers
Commission pending/received metrics.
Edit Strategy - make any changes to your current strategy
Subscriber's statistics diagram shows you the dynamic number of your subscribers.
Status of your Copiers active, unsubscribed or subscription on pause
Here you will find information on how much was allocated to copy you, allocation type, copiers details
5.
How clients find and compare your strategy
By clicking on the Copy Trading clients can view the ranking list of Masters, featuring their strategies that they can choose and copy immediately.
Clients can filter and sort strategies by different sensitive parameters, such as activity in period, account type, country of origin, commission types, % of gain & drawdown.
Client can sort masters by the number of Copiers they have, in other words, by popularity among users
Sorting by Copy Assets (by the total sum invested to copy their deals) will show their trust valued in money
Sorting by Gain/Drawdown will show success in catching the wave in the market
Minimum $ investment - sort to see how much money do you need to allocate to start copying this master, how tough conditions to enter
With us - how long the master strategy exists. The more days with us, the more deserve a trust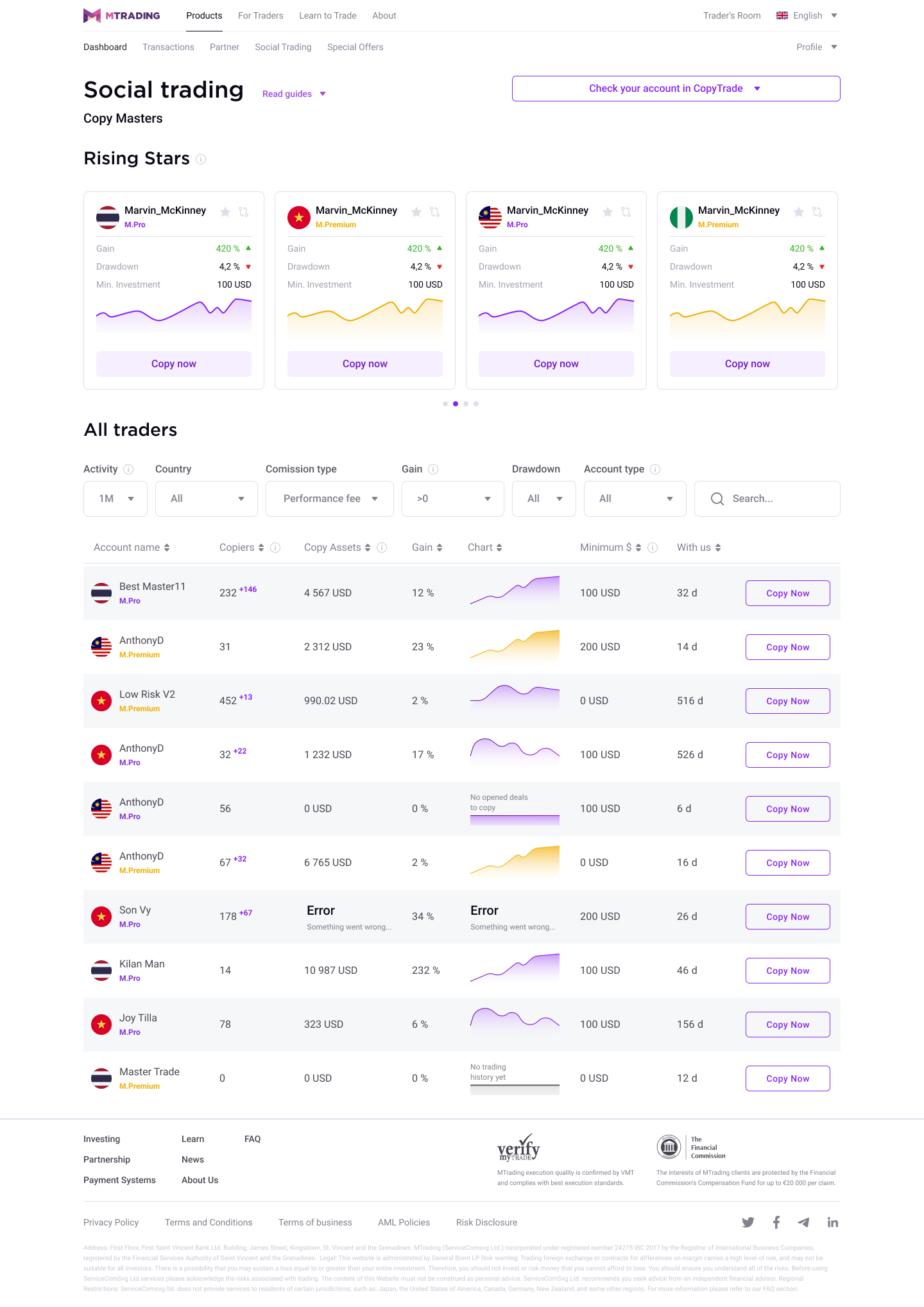 Below is the public view of your strategy page
The main information is in the first section: your description, commissions conditions and "Copy Now" button.
The subscriber can add your strategy to favorites by clicking on the star icon, and add several masters to compare by clicking on the arrows icon.
Please note that subscription conditions are all different with each master, some can charge the fees for performance, volume, management, others can for instance charge only performance fee, it is advisable
to review other masters strategy so that you can be competitive and stand out from the crowd!
Your trading performance details: trading Gain, Max. drawdown (Max.DD the less, the better), how many subscribers you already have, what instruments you trade, how long your strategy exists, your master's balance, trader's bonus available, leverage used.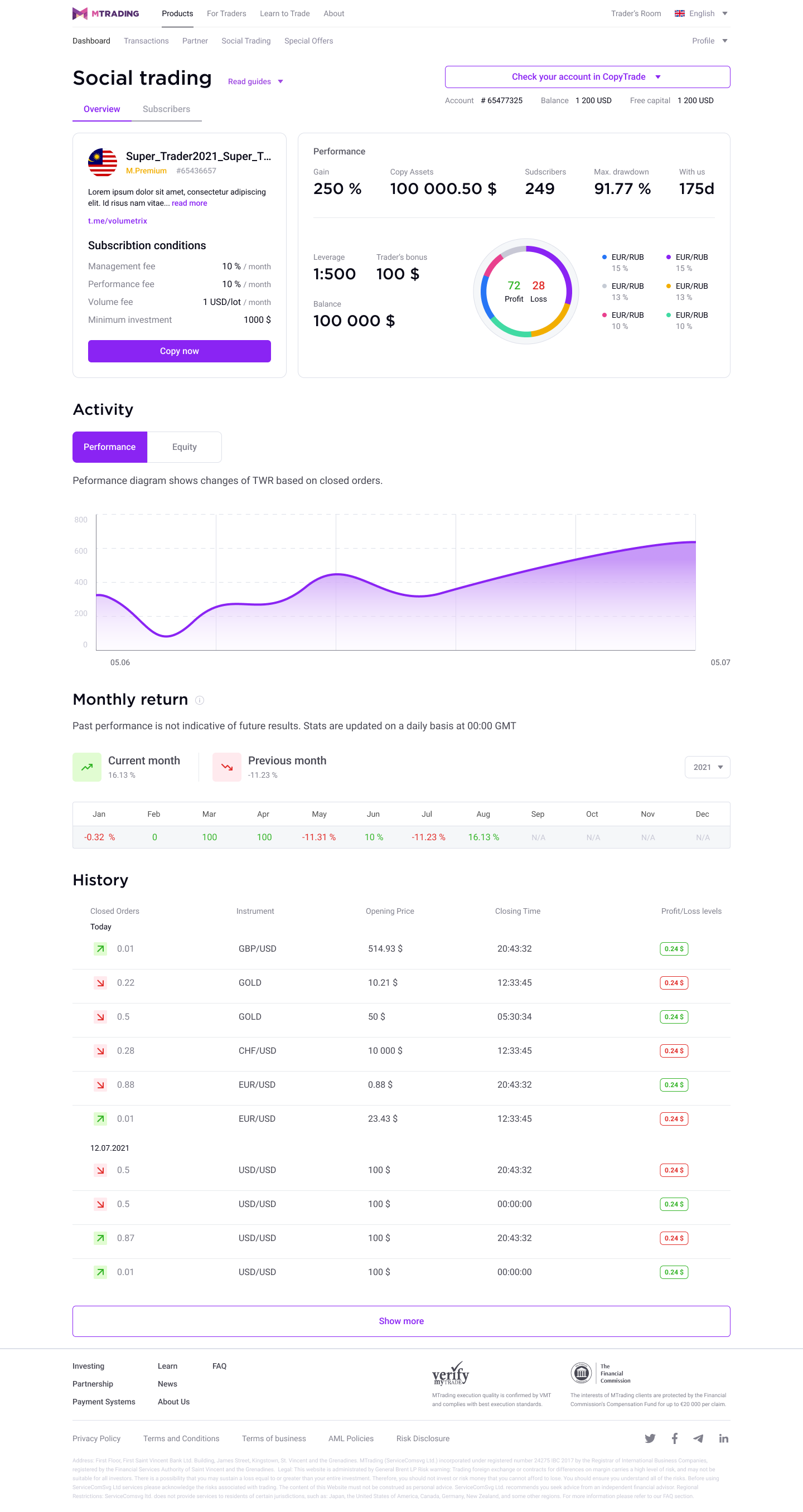 Leverage ratio
Shows if a master uses an accelerator for return growth. On the other hand, it reflects the risk level of the master
Trader's bonus
If a master has a trader's bonus, to copy and replicate the master orders in full, you should add the master's Balance and the Bonus (Balance + Bonus = the master's total funds for these copy trades)
Balance
Shows master's balance. It affects the size of copied lots depending on allocation
Number of Profit or Loss deals
Displays the number of profit as well as loss closed orders
Pie chart
Highlights type of instruments, and their percentage among master's trades
Performance diagram
This diagram shows what success as a master you have, and it is based on closed orders, decisions on withdrawals and deposits, known as TWR
You can check it for the whole period and also for the certain recent period (e.g. last week, last month, etc.)
Equity diagram
Represents the value of the trading account that moves up or down with every order, without accounting for deposits or withdrawals. So it's a clear picture of your past and current success.
Monthly diagram
The monthly stats are also calculated based on TWR and show changes in performance from the beginning of the month until the end of the month.
Trading history
The trading history is sorted by the time of closed orders. The copier can check at which time you close positions during the day and how profitable they were.
6. How masters earn?
Multiplying strategies
For example, you see that your Copiers differ greatly in investment sum and allocation methods. This could also cause differences in profit and therefore not stable commission for you.
To make your income more diversified and predictable in such case, it could be reasonable to multiply published strategies:
Strategy with relatively small balance and 0 min.investment to attract newcomers
Strategy with big enough balance and relevant min investment
Strategy with mono instrument trade and multiple instruments in portfolio
Promotions of masters
MTrading supports masters and provides different promotion activities:
Rising stars selection

Top 10 masters

Top traders during the day

Every day, we promote our top masters for free on our Telegram channel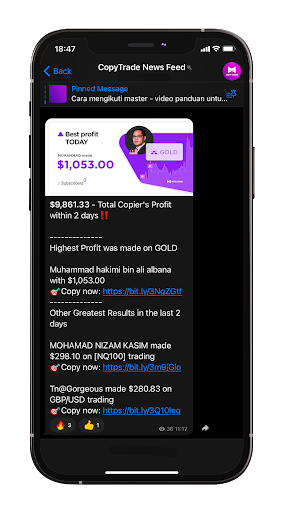 Rising stars selection
The top 5 Masters will be presented on the company's page for the copy traders to subscribe and start copy, for example, the Rising Stars on the Copy Trading Page, to be listed there you should have a drawdown of less than 20%.
The conditions to be published in the Rising Stars:
You published your strategy more than 60 days ago;

Your trading gain more than 0;

Drawdown less than 20%;

Last trade was within last 30 days.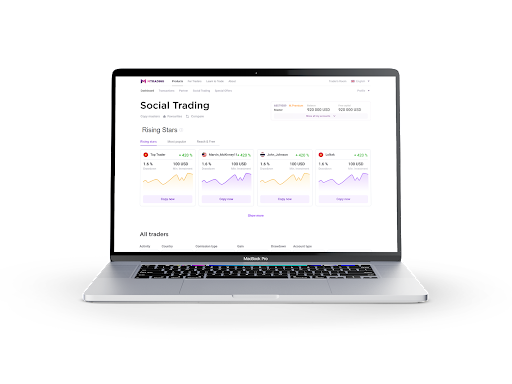 Top 10 masters
Our main page with master has a default filter to sort out:
Masters who traded during last month
Masters who have a positive gain
Masters by the number of subscribers
Consider these simple factors to get listed on our top page!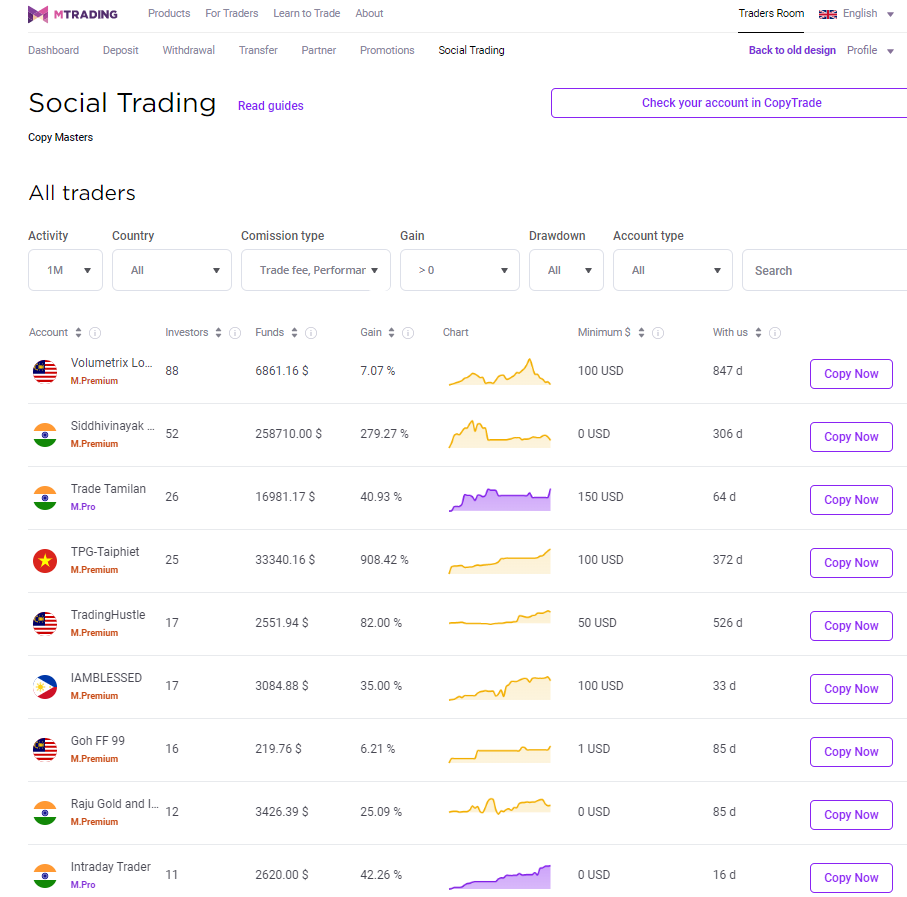 Offer for experienced traders
The company offers a special promo campaign for experienced traders to promote themselves.
Contact your manager to request sponsorship for your advertising campaign.
We invite clients to our landing pages, so that they can find you from here too!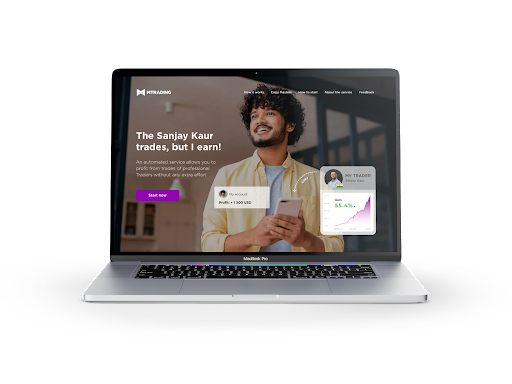 Now you are ready to start!
May the trading luck be with you!